CR:
fcuz.co.kr + lyrics romanized by; F.Cuz Singapore +
AznSamManMV
Pls credit the sources and all translators/sites when reposting. Do not hotlink the graphics.
as all of you know F.Cuz is back on their second mini album. and their promoting No One.
here's their MV if you havent seen it!
anyways... i just love Fan Chant! waheheh who doesnt right?!
it just shows your support for your idols

so here's your No One Fanchant!
*Red - Shout
*Blue - Sing aloud
*For the 'ha! ha!' part, match it with 'No! One!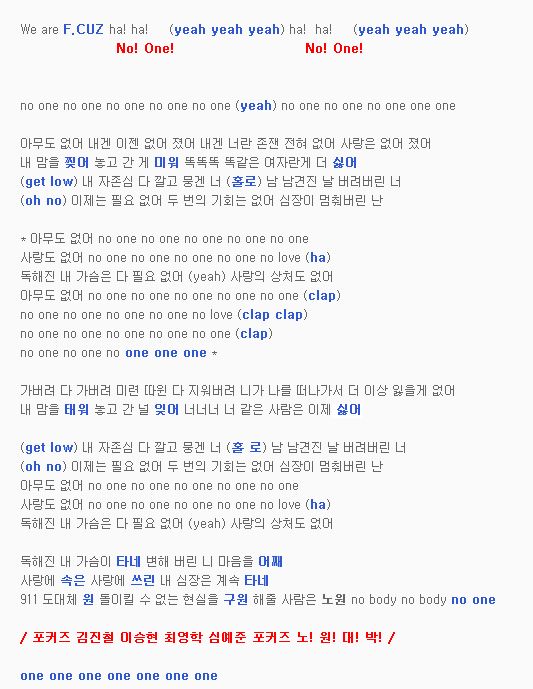 We are

F.CUZ

ha! ha!

No One!


(

yeah yeah yeah

)

ha! ha!

No One!

(

yeah yeah yeah

)



no one no one no one no one no one

(

yeah

)


no one no one no one one one



amudo eobseo naegen ijen eobseo jyeosseo naegen
neoran jonjaen jeonhyeo eobseo sarangeun eobseo jyeosseo


nae mameul

jjijeo

nogo gan ke

miwo




ttokttokttok ttokgateun yeojarange deo

shireo



(

get low

)

nae jajonshim da kkalgo munggen neo


(

hollo

)

nam namgyeonjin nal beoryeobeorin neo


(

oh no

)

ijeneun piryo eobseo du beonui kihwineun eobseo


shimjangi meomchwobeorin nan

amudo eobseo no one no one no one no one no one
sarangdo eobseo no one no one no one no one no love (

ha

)
dokhaejin nae gaseumeun da piryo eobseo (yeah) sarangui sangcheodo eobseo
amudo eobseo no one no one no one no one no one (

clap

)


no one no one no one no one no love

(

clap clap

)


no one no one no one no one no one

(

clap

)


no one no one no

one one one



gabeoryeo da gabeoryeo miryeon ttawin da jiwobeoryeo
niga nareul tteonagaseo deo isang ireulke eobseo
nae mameul

taewo

nogo gan neol

ijeo




neoneoneo neo gateun sarameun ije

shireo



(

get low

)

nae jajonshim da kkalgo munggen neo


(

hollo

)

nam namgyeonjin nal beoryeobeorin neo


(

oh no

)
ijeneun piryo eobseo du beonui kihwineun eobseo
shimjangi meomchwobeorin nan

amudo eobseo no one no one no one no one no one
sarangdo eobseo no one no one no one no one no love
(

ha

)


dokha

ejin nae gaseumeun da piryo eobseo (yeah) sarangui sangcheodo eobseo

dokhaejin nae gaseumi

tane

byeonhae beorin ni maeulmeul

eojjae




sarange

sokeun

sarange

sseurin

nae shimjangeun gyesok tane
911 dodaeche

won

dorikil su eobneun hyeonshireul

guwon




haejul sarameun no one nobody nobody

no one



/ Pokeojeu, Kim Jin Chul, Lee Seung Hyun, Choi Young Hak, Shim Ye Jun, Pokeojeu No! One! Dae! Bak! /



one one one one one one one