from leeminho.cn http://www.leeminho.cn/read.php?tid=3666

Important notice for HK fanmeeting on Nov 7
Just got notification from organizer in HK. Due to change of Minho's schedule, HK fanmeeting on Nov 7 might have to be rescheduled. Confirmed details to be announced on Oct 19. Further notice to be posted. Sorry for any inconvenience caused.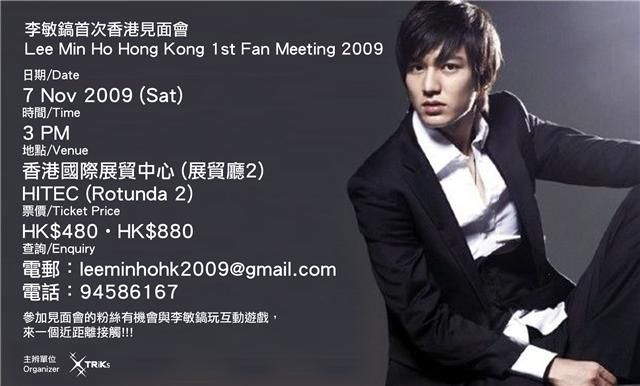 We are going to have fan-meeting in hongkong with TRiKs on 7th of nov.2009

If you interesting please contact to the below contacr page.

Date: 7 Nov 2009(Sat)
Time: PM 3:00~
Venue: HITEC (Rotunda 2)
Organzer: TRiKs (leeminhohk2009@gmail.com)

"Contact Page":

HITEC
TRIKS


source: http://www.leeminho.kr/board/bb_view.php?p...i=&ps_divi=






Date: 7 Nov 2009 (Sat)
Time: 3 PM( HK TIME)
Venue: HITEC (Rotunda 2)
Organizer: TRiKs
Ticket Price: HK$480/HK$880

FOR Oversea FANS(ticket) : http://www.leeminho-hkfc.com/viewthread.ph...;extra=page%3D1


BULK BUY OF HK FORUM
Method and detail for oversea fans


西聯匯款westernunion
For fans from foreign countries
>> http://www.westernunion.com/info/selectCountry.asp
>> http://www.westernunion.com.hk/en/index.php

Wesite will only arrange for the ticket $880(seat) /$480 (seat)
All individual is limited to purchase 10 tickets.

Deadline : 2009/10/20 18:00

Seat will distribute by the method - " first in first gain"
(Follow by the "time of money remit")

Please follow the instruction below
Step:

1. please remit asap and keep the original receipt.

2. After the remittance, please reply with the right format which will be given.

3. Please wait for our confirmation (we will send a confirm E mail and comfirm in your reply)

Tickets will be distributed on the day of fan meeting

FOR DETAIL INFORMATION,you can sd mail to ask ,we will help you

CR: admin-lmhhkfc