CR:http://www.rain-jihoon.com/fromrain/board_...ield=&word= +
Source: NAVER
Translated by leira @ absolutemblaq
Template by joon* @ absolutemblaq
Pls credit the sources and all sites when reposting. Do not hotlink the graphics.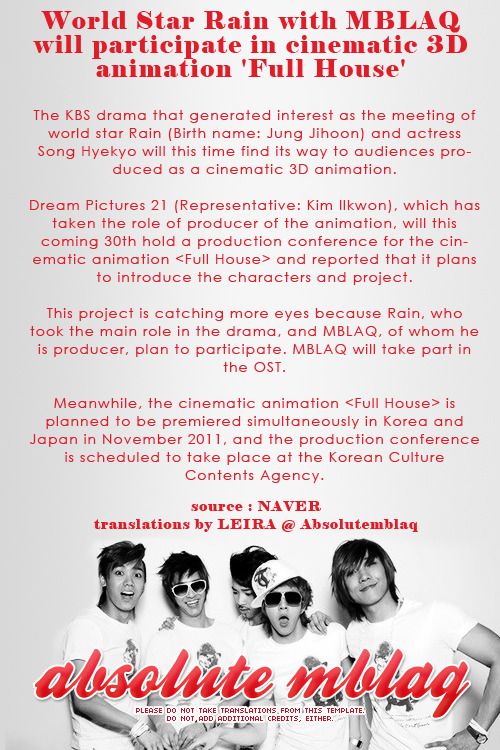 Hello,
it's been a long time since we last met.
This is Rain.

Spring which is one of my favorite seasons is near at hand.
Thanks to the concern all of you have shown, I'm doing well.

It's just that I've come to write a letter to you in a long time because there has been a glitch in the plan.

Since my drama and movie projects will run a little late, I've come to get a time to be active as a singer.

This time, my special album will be for my fans, and I'll try to introduce some of my long-held songs through this album.

I feel so happy that I'll be able to show you my splendid stage and performance for about two months starting on April 1st, because I've put in quite a lot of arrangements beforehand whenever I have time.

My special album will be released on April 1st, and the songs in this album will be added to the contents of my newer concert tour which will be held this year.

Also, I used to appear in a little serious dramas or movies, but this time I'll try to work on such a drama or movie which will show my personal touch more only for you and will be made easy for you.

Since this album will be for you, please look forward to it and enjoy listening to it.

I say for your information, MBLAQ's 2nd single album will be released soon, so I hope you to love MBLAQ a lot, too, and I'd like to have a wonderful time with you for two months of April and May which are just around the corner.

Thank you very very much.

Please be healthy.