CR: BLAQ'n'white (english translation), STAR NEWS(source) + tyty6_7 @ soompi thread + as tagged
Pls credit the sources and all sites when reposting. Do not hotlink the graphics.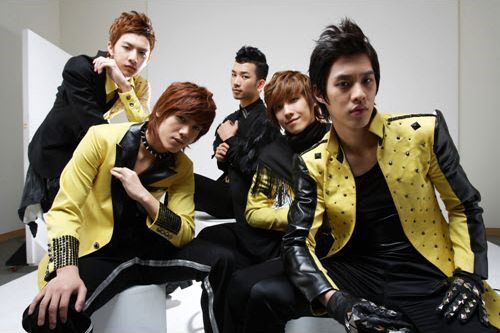 From the outlook. they are different. Despite being rookies, they have a member of 2009's best girl group 2NE1's brother "Chun Dung", actress Go Eunah's brother "Mir", and "Lee Joon" who played the role of the younger version of Rain in the movie "Ninja Assassin".

Due to this, it's no surprise that they're garnering this much interest. MBLAQ, even though they are new, they do not lack attention even compared with groups such as SS501 and SHINee, now their rivals.

There is anticipation that there will be a Sechskies-H.O.T-like rivalry between them and Beast. MBLAQ has expressed their confidence in this rivalry.

"There needs to be a rival team at all times. Even though it's pressurizing, it'll be better for our development. (Laughter) We see this more as a plus than a minus. Because our final aim is to be like our senior Rain, we cannot afford to be frightened just now."

Their aims are set in place. They want to be like 'Singer-actor Rain who has put them in this place'! Even though they feel under pressure due to the bright support light, they did not hide their happiness.

"It's a heavy burden listening to the words 'MBLAQ, who was raised by Rain. But we feel proud at the same time. Because Jihoon-hyung really did raise us up. (Grin) It's a real honour. And in order to not shame the title, we will try even harder."

All five members have the same thoughts. Not to put the phrase 'MBLAQ, who was raised by Rain' into the mud. There's nothing more, and nothing less. They see the fact that they started one step ahead of others as a blessing, not a curse.

Member Chun Dung said "Because we have such a grand title of "Rain's Boyband", we have a catalyst to make us try harder", and that they were "thankful" for this title.

The point here is that despite being rookies, they have sold all 3000 copies of their debut single and they are smiling a lot. This should be a satisfactory beginning.

"Everyone says that they're jealous of us, but after our debut stage on the 15th, we were disappointed. We thought that we'd do well when it came to the real thing, but instead we did worse. That's when we realised why Rain told us to practice as if we're actually on stage. We were foolish to think that we'd do well on the actual performance, even though we didn't slack."

All members agreed. This was because there was a lot of regret over their debut stage. Of course it's their first, so they have emphasised that they will be able to correct past mistakes.

"There are lots of male idols coming. But we are idols putting emphasis on manliess. We will appear to be strong and unique. And at the end, we will be singers at the top of the music industry just like Rain sunbaenim (T/N this is a word for 'senior'). We are confident that we won't disappoint."
.