Pls credit the sources and all sites when reposting. Do not hotlink the graphics.
In a recent interview with Newsen, Jang Hyun Seung, Yoon Doo Joon and Lee Ki Gwang of the rookie group BEAST delved into their past and shared new pieces of information about themselves that were unheard of before.




Many people who are already familiar with Jang Hyun Seung know that he trained under YG Entertainment to become a member of Big Bang, but was eliminated before he got the chance to debut with them. It's been quite some time since then, but Jang Hyun Seung was finally reunited with his fellow trainee and good friend, G-Dragon (real name: Kwon Ji Yong) on last week's broadcasting of SBS Inkigayo. While the Big Bang leader was present on the show for his solo activities, Jang Hyun Seung was preparing for his group's debut performance. They met up again after rehearsals and caught up on what they missed during their time apart.

"After not being able to debut with Big Bang, I hardly kept in contact with them, but I saw Ji Yong hyung for the first time in 2 - 3 years," the vocalist of BEAST admitted. "He seemed really happy that we would see each other more often from now on. Initially, it was slightly awkward since we haven't seen each other in so long, but he has always been good at taking care of me." Jang Hyun Seung will also encounter Taeyang of Big Bang, as the latter is expected to make his solo comeback on Inkigayo on the 25th.

Of BEAST's showcase on the 15th, he said, "I was so nervous the night before that I only slept for 30 minutes. Out of 10 points, I would give my performance a 3. I was really disappointed. However, I think the performance on 'Music Bank' on the 16th was better than the showcase. Being on a live music program feels a little strange, but I still think it was better."

He also described his inspirations for becoming a singer in the first place as he has obviously endured much to reach the point he is at now. "When I was young, I developed a dream of singing after watching Seotaiji and Boys and H.O.T. Since then, I have not thought of doing anything else besides becoming a singer."

Jang Hyun Seung has come a long way from the hopeful kid in his 2nd year of junior high.




Likewise, Yoon Doo Joon of BEAST revealed his own reason as to why he decided to pursue a career in the cut-throat entertainment industry.

"Actually, I used to play soccer during junior high. My dream was to become a high school P.E. teacher," he claimed. "I gained a lot of weight during junior high. But during my 1st - 2nd year of high school, I went on a diet and lost most of it."

When asked how his dream of becoming a P.E. teacher was radically changed to becoming a singer, Yoon Doo Joon replied, "I saw MTV's 'Big Bang Documentary.' I always enjoyed singing and dancing, but watching people of my age chase after their dreams was really admirable."

Ironically, the eliminated member of Big Bang, whom Yoon Doo Joon watched on the small screen and felt inspired by, ended up being a part of his own group. Isn't it funny how fate works sometimes?

Yoon Doo Joon continued, "My teachers and parents all said I couldn't [become a singer]. However, after incessant pleading and crying, I enrolled in a music school. I attended many auditions and worked extremely hard, in hopes of becoming a singer."

It is widely known that Yoon Doo Joon was featured in the reality program 'Hot Blood,' which consisted of members from 2PM and 2AM who were preparing for their debut at the time.

"During the training days of 'Hot Blood,' Im Seul Ong (2AM) and I would always eat midnight snacks together," he recalled of the experience. "At the time, it felt like such a long period, but now that I think about it, it was only a brief moment."

As a final closing message, Yoon Doo Joon said, "Since we [BEAST] just took our first step into the K-pop scene, we will start to run at full force. This is only the beginning of our performances so it will be good to anticipate a new side of us from now on."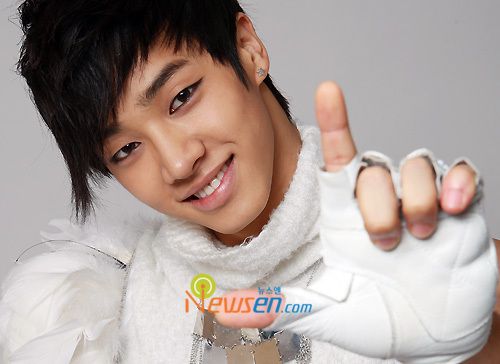 Unlike the previous two members who briefly tested the water before joining BEAST, Lee Ki Gwang was already swimming laps. Having released two songs from his debut album "First Episode: A New Hero," Lee Ki Gwang was definitely no one new to the stage. The 19-year-old artist gained a relatively good amount of fans during his solo activities and was even deemed to be the next Rain / Bi. However, with his official membership in BEAST, AJ sacrificed his solo career to share his fame and success with 5 other members.

"To be honest, it's very fun," answered Lee Ki Gwang when asked about his reaction to joining a 6-member boy band. "I am less nervous on stage too, as opposed to when I was alone. During practices, I can direct my focus on a specific part that is appropriate for me. Even the practices are more fun with other members. When I traveled alone, it was always quiet, but now I am able to eat with the group and create a ruckus."

The member with the "chocolate abs" added, "Because of my individual schedule, there were many times I felt apologetic towards the others." Due to his acting role in MBC 'The Unstoppable High Kick' / 'High Kick Through the Roof,' Lee Ki Gwang wasn't able to practice with the group sometimes. "To the members who were understanding [of my situation], I am sorry and thankful."

The boys all seem to have experienced their own share of hardships and suffering, but, as the old adage goes, "all's well that ends well." Some may view BEAST as a team of rejects, but such an ignorant comment implies that people
are drinking too much haterade
have not yet witnessed the talent each member possesses. With successful album sales and a rapidly growing fanbase, BEAST seems to be one of the emerging groups in 2009 with a promising future ahead of them.