CR: SudSupDa's mag @ TAEMIN-THAILAND.COM + Eng Trans : RoxyYui @ shineee.net
Pls credit the sources and all sites when reposting. Do not hotlink the graphics.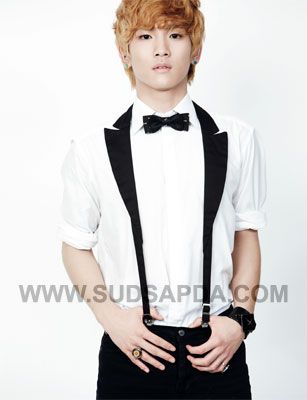 1. What is the best part of being SHINee's member?

To make my dreams come true.

2. What do you want to be when you were young?

I want to be a singer since I was a little boy but then when I grow up I want to be an artist (as in like a drawer or a painter)

3. Bad behavior or any naughty habit that your parents always mention even until now?

When I was young my parents raise me very well so I don't have any bad behavior or naughty habit for them to complain.

4. If you want to talk about your member ...

Taemin is such a baby. Jonghyun hyung and Onew hyung is our biggest brothers and Minho ... (laughing)

5. If we would like you to go back in the past to fix something, What would it be?

I still remember. I want to go back when I was 7 years old! I want to get 100 points from from the exam. I want to be trained so I can be a good singer. Study hard and more capability to do stuff.

6. What is your favourite dish to cook?

It's not a dish but I can make the greatest earl grey tea!

7. If you have to be a competitior in the Olympic. What kind of sports do you think you'll definitely win a gold medal?

Shopping marathon ( It doesn't mean I like to shop but I'm just interested in fashion and like to window shopping)

8. If you are a cottage in the middle of the jungle and electric shock. Who are you going to call?

My best friend.

9. Women that makes you turn around ....

The women that has her own style.

10. The most impressive concert?

It should be our 1st time at Dream concert! It was a huge concert and they were like a million people! I was really nervous.

11. If you would like to talk about the funniest member in a band who would it be and why?

Taemin. Just His face .... makes me want to laugh.

12. The last time you cried?

My tears dropped while I was watching TV drama.

13. When was the last time you laugh out loud and why?

5 minutes ago. I was watching a TV program ( When I laugh I normally laugh quite loud)

13. On your previous birthday, what was the most impression that you had?

It was near my birthday. I went to promote album in Japan, Thailand, Taiwan and then came back to Korea. It was very nice to have SHINee World celebrate my birthday with me.

14. The most embarrsing moment?

There was one time when I had dinner. I had a laugh with something then my food stuck in my throat, that made everyone around me staring!

15. If you would like to swop yourself with somebody, would would it be and why?

Key (myself) I want to be an ordinary boy when I'm 17 not when I'm a singer.

16. Feeling for your Thai fans?

You guys are charming and very nice too!

17. Something you would like to say to Thai fans.

Thank you very much for your support. We would like to go back to Thailand again and please don't forget our up coming album!!